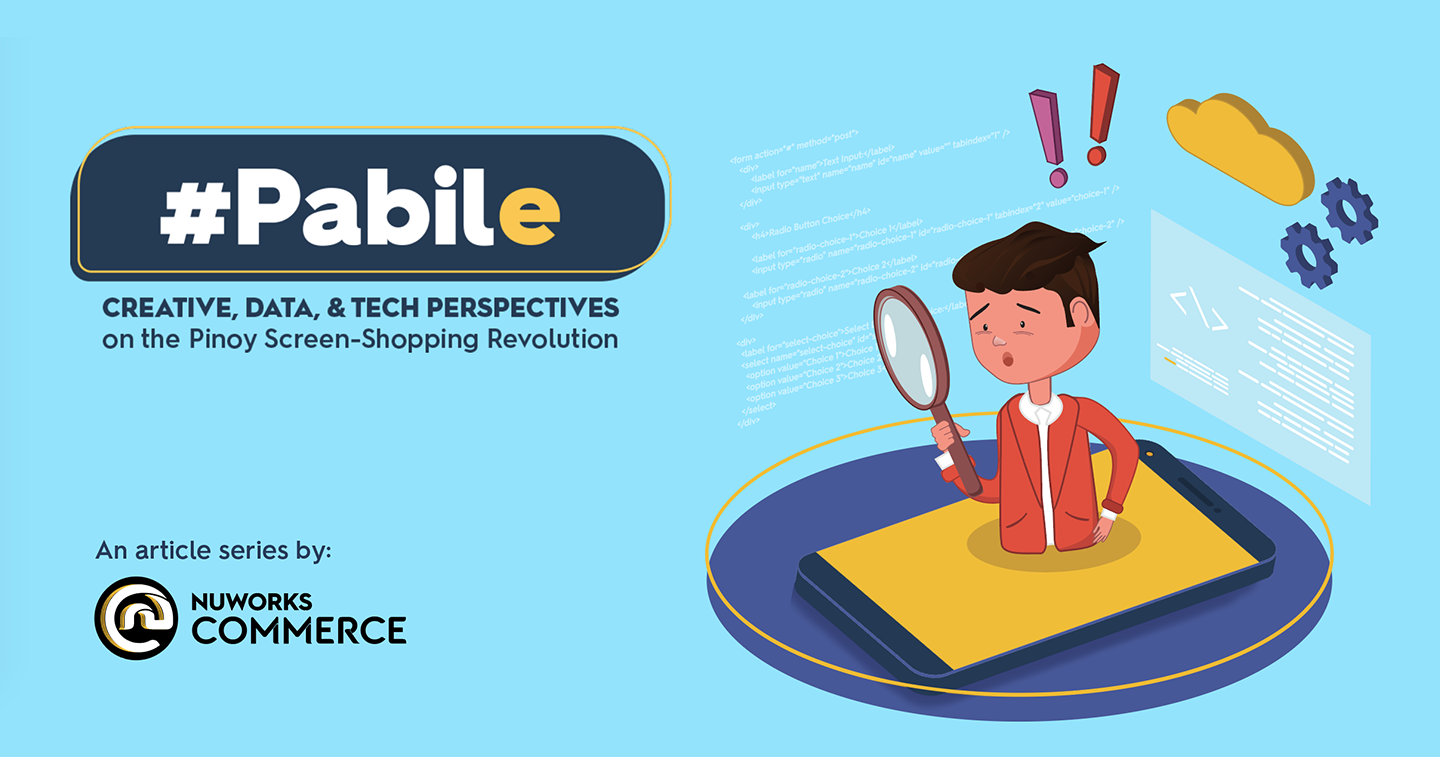 There are hundreds of eCommerce platforms available online. To help you choose one, NUWORKS Commerce shares its methodical approach that would enable your business to start its eCommerce journey. Quite often, setting up an eCommerce storefront is looked at as a complicated endeavor when in reality, all it requires is a consistent approach towards syncing the functions of technology, design, logistics and payments. We, at NUWORKS, foster a growth mindset and develop eCommerce strategies holistically as our approach considers the online behavior of Pinoy consumers in order to deliver a customized and robust eCommerce brand experience.
Switching eComm platform midway is possible but not advisable
It is possible but not ideal as this could be quite costly. Migration of data and site downtime could lead to significant losses that could very well lead your customers to other competitor sites. Other losses can also be in the form of man-hours spent on customizations only for it to be abandoned. Since some platforms do not support certain features, migration may easily lead to a disjointed user experience which would definitely impact the performance of your eCommerce website.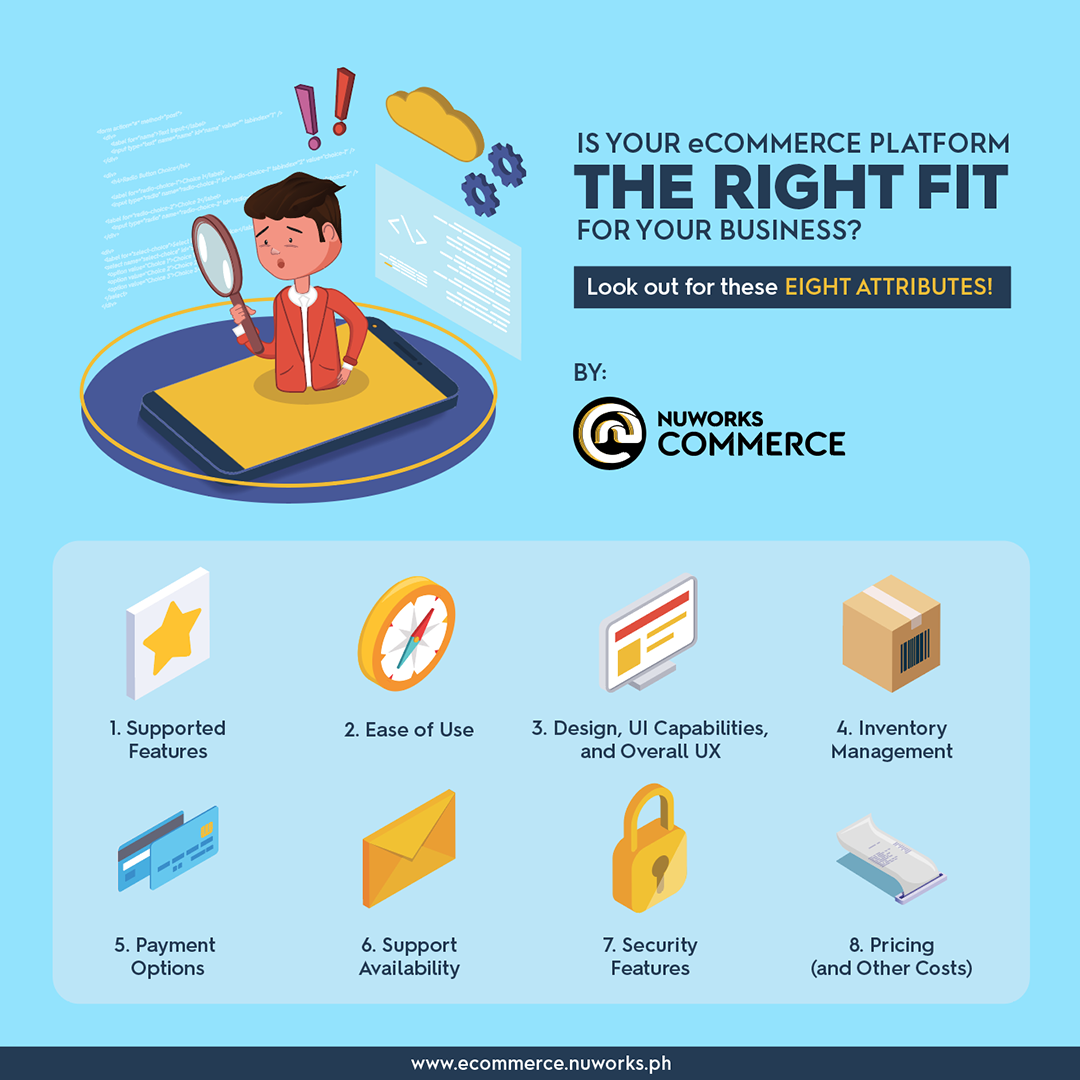 Evaluating an effective and scalable eCommerce solution
Platforms are usually scored and graded through the following attributes:
FEATURES
All platforms do not offer the exact same features. Although most of them have a baseline of basic features, certain variations or functions may not be supported without customisation. A good way to start is to look for a popular eCommerce site selling similar products of interest. 
EASE OF USE
Ease of use is an important factor if you are working with limitations in time or manpower for managing your platform. Consider the skill level and time of your designated platform manager. Some platforms are better for beginners and some offer more customizations. 

Take advantage of the trial period that platforms usually offer and have it tested by the actual user if possible. For the customer's perspective, most of the eCommerce platforms offer similar ease of use out-of-the-box. 
DESIGN, UI CAPABILITIES, AND OVERALL UX
Platforms have varying cosmetic customization capabilities, and these are not as straightforward to spot at first glance. If you are particular about the look or layout of your eCommerce site, it is best to ask an expert or someone experienced with the platform that you are considering. It is not uncommon to see brand owners and developers argue about customizations especially when changes asked seem mundane and simple. 

On the subject of UX, these platforms are also ranked through page load speed. If you want to see how these platforms differ, there are resources available online that rank them based on Google Page Speed and Mobile Friendliness.
INVENTORY
Not all platforms come with an Inventory Management System bundled out-of-the-box.

It is important to check to avoid unbudgeted additional costs. Most mature platforms offer various inventory management solutions in their own platform marketplaces. 

Alternatively, there are many standalone Inventory Management Systems to choose from. Having a standalone has the advantage of independent operation. In addition, they USUALLY are more robust in features. However, make sure that the standalone platform of choice has an API or has connectors to your eCommerce platform of choice in order to make the two systems interoperable. 
PAYMENT OPTIONS
Before choosing, check if the eCommerce platform you are looking at supports your desired payment options. Most popular eCommerce platforms provide support within itself or through a marketplace extension. For the local context, Cash-on-Delivery may need some tweaking to enable. 
SUPPORT
More than customer support for the platform, it would be wise to consider the availability of specialists who know about the platform. This is a second line of guarantee in case you cannot get the immediate support you need. Positive and negative reviews online can only give you a glimpse of what to expect, but not a complete view of what exactly you will experience should you need urgent support. This means that you may have to consider what the popular platform is for local tech providers in your local area or among your contacts.
SECURITY
Since transactions within eComm is highly important and use of Personal Identifiable information is unavoidable, researching about the security features and practices of the platform is a very important task that should not be overlooked. Make sure that you know where the data is being stored (country and location), how the data is secured (encryption applied to Personal data), and that the platform's shared liabilities should there be a breach in security. Always remember that security is not just about how many security features a platform offers. 

Some mandatories are forced password reset, strong passwords, auto logout, and minimum length, OTP if possible. These are just some of the basic ones. If you are one of the few who opted to build on your own, there are also IT infrastructure related considerations both physical and in policies and standards. 

Speaking of policies and standards, an easy thing to consider is how information is shared within your organization. For example, how many people have access to the dashboard, what their user rights are, if their machines are properly secured, and if they are working in a public location with open WiFi. Security is not one of the most lively topics to discuss but is ever more important with the increase of fraud attempts in the time of COVID-19.
PRICING (AND OTHER COSTS)
Saving the best for last, pricing models also vary amongst platforms, and it is important to choose which best works for your business. Some may charge per transaction, which may be ideal for some. There are also those that use a subscription model whilst there are a few that operate with licensing models that may be annual or on a tiered model. 

Some platforms offer Paid extensions for some features like the ability for users to subscribe or repeat ordering. These costs may vary depending on the third party developers.

On top of platform fees, keep the following in mind so that you could manage your budget accordingly: Salary of managers, developer fees, payment gateway service fees, consultation fees (e.g. Data privacy consultants, etc.), and agency fees for marketing or creatives.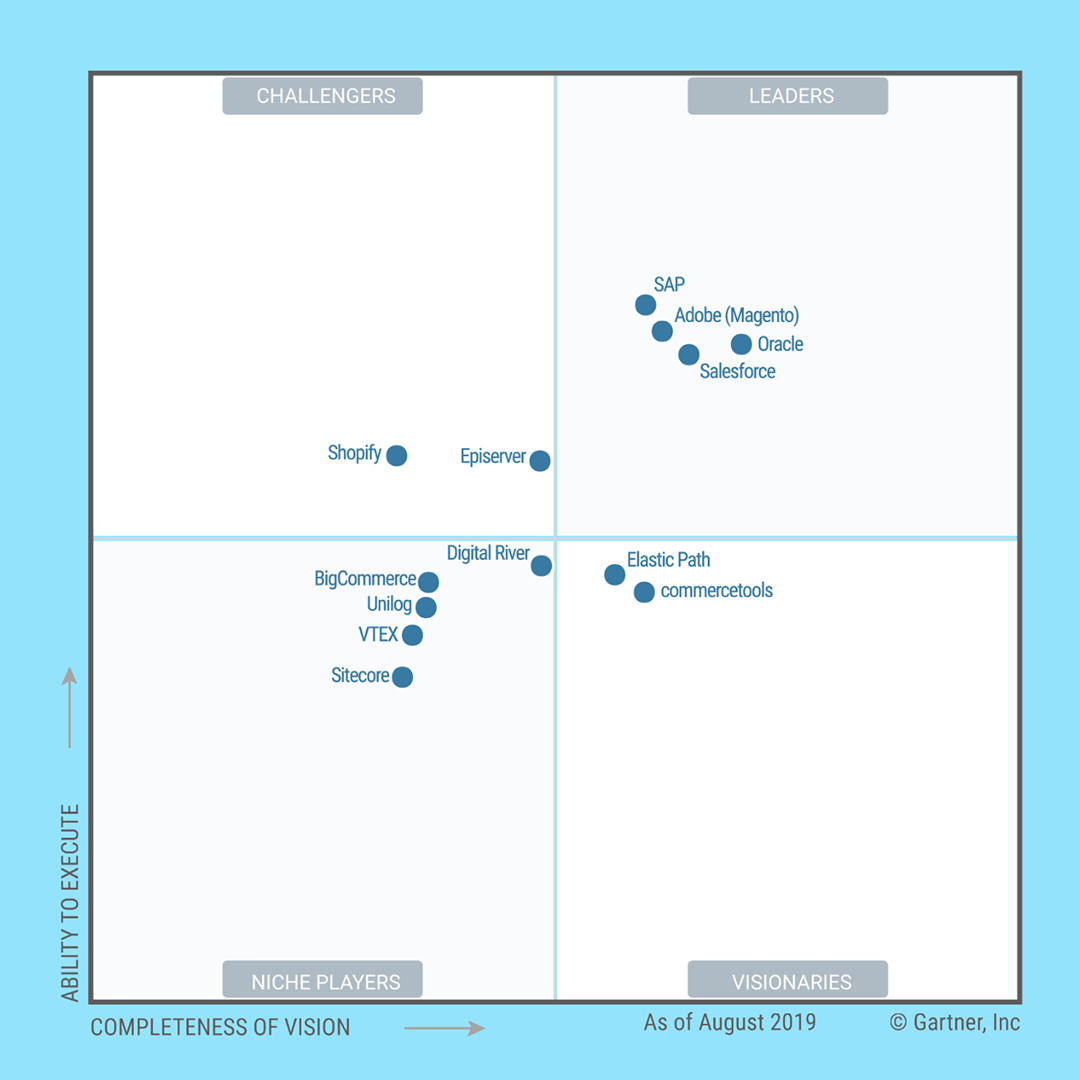 Source: Gartner's Magic Quadrant, Aug 2019.

Gartner illustrates another perspective for mapping eCommerce platforms. The inclusion criteria maintained emphasis on increased annual revenue and growth in the number of vendors' customers, and factored in the number of product customers and vendors' overall financial performance. The evaluation criteria used by the research and advisory firm emphasized the requirements for future success and assessed vendors on their journey to the future of commerce.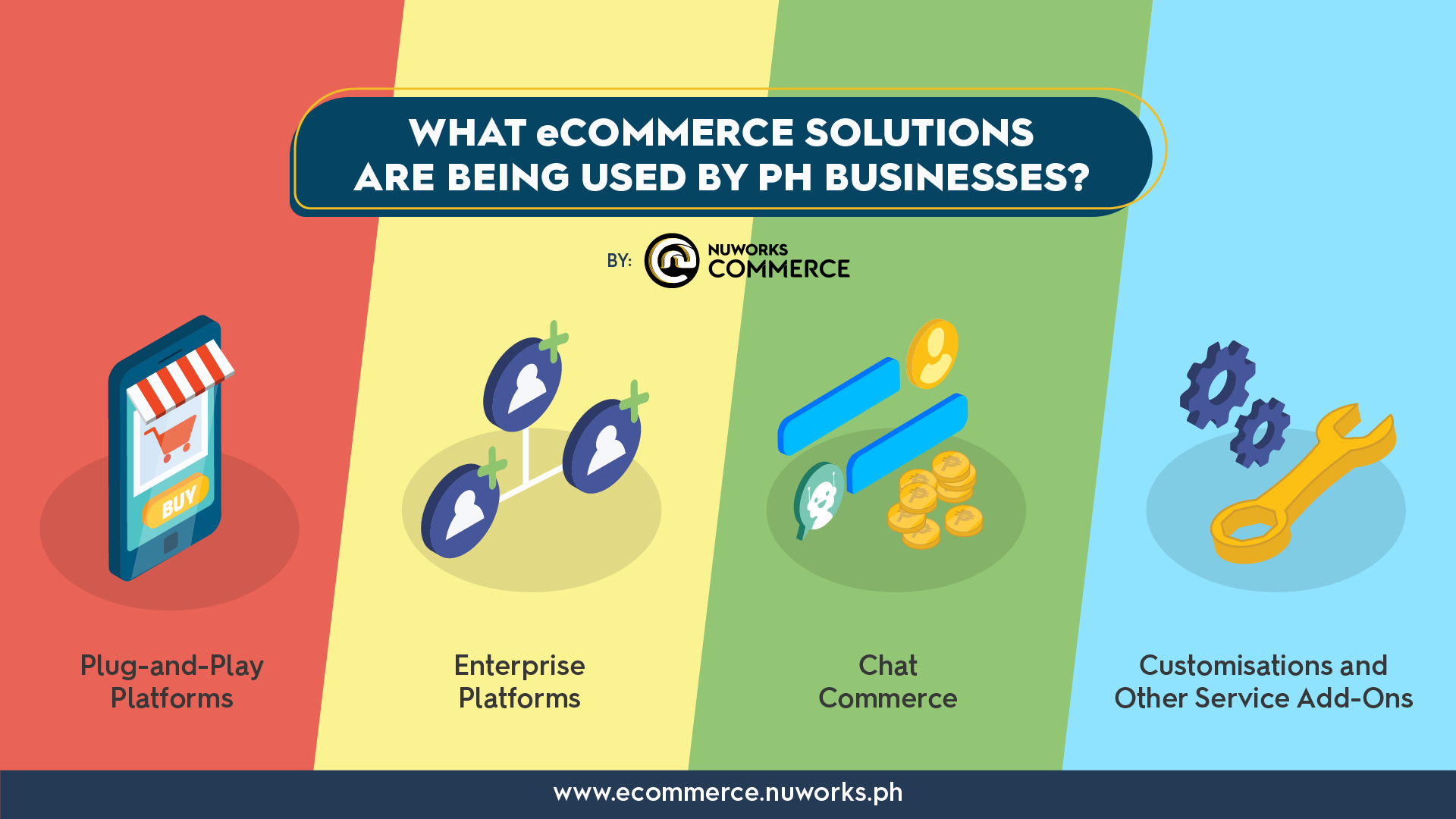 What eCommerce solutions are being used by PH businesses?
Plug-and-Play Platforms
One of the most preferred eCommerce Platforms is Shopify, mainly because of its cost model of charging per transaction made through the platform. It is also pretty straightforward to set up.

Another developer community favorite is WooCommerce, which is an open-source plugin on top of the popular CMS, WordPress. This can be an ideal platform for businesses since it is written using a very popular programming language, which means there are a lot of options available for support online from communities or through a tech provider. 
Enterprise Platforms
The developer community has a distinguished liking for Magento, considering the customizability it offers owing to it being an open-source eCommerce platform. Magento comes in two editions: Community and Enterprise Edition. For enterprise deployments, if you prefer working with local tech providers, Magento Enterprise Edition is a popular choice. The key difference of the Enterprise Edition is a rich set of features and optimisations for larger SKUs.

For enterprise applications, you could go for other enterprise providers such as SAP. Another possibility is a custom-built approach that starts off with the basic e-commerce features, which you can then build on as you go along. This can offer some flexibility in terms of budget. 
Chat Commerce
We have seen great success in companies, be it enterprise or SME, starting off their eCommerce business using Social Chat Commerce. Setting it up is quick, cheap, and makes for an end-to-end offering, given its ability to integrate payment options.

Chat commerce is a great option for a low-risk initiative, as development can take just a few days up to a couple of weeks

. As such,

NUWORKS Commerce

has already created some of the groundwork for this to enable faster deployment.

For the local context, two popular choices are Facebook Messenger and Viber. Since these platforms are highly integrated, it is important to know that these platforms have individual restrictions. For example, Viber only allows partner platforms to publish apps whereas FB allows you to publish apps as long as you go through the verification process. You may want to consult tech providers that can guide you through this process as these restrictions and overall approval experience may change from time-to-time. 
Customisations and Other Service Add-ons
Selecting and using a platform is just one of many considerations to ensure your success in eCommerce. In order to stand out, it is also important to consider other services you may need such as: eCommerce Operations Management, Analytics and Strategy Services, Creative Design, Media Strategy and Management Services, just to name a few. 
In Summary
We hope this gave you some useful information to guide you through your eCommerce journey towards delivering the best customer experience. Take your time in choosing the right platform or Tech Partner. NUWORKS Commerce offers eCommerce solutions from consultation, strategy, all the way to development and operating various eCommerce platforms. If you have any more questions regarding eCommerce, kindly reach out here.