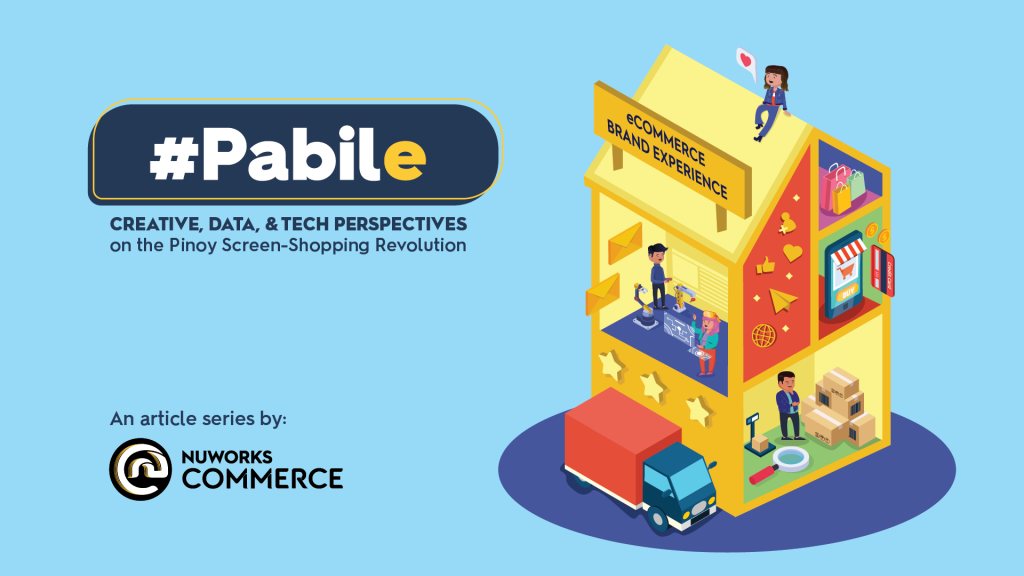 The approach towards setting up eCommerce operations should start with acknowledging that the brand experience is greater than the sum of its parts; it is critical to ensure that logistics, payments and technology add up to a seamless customer journey. At NuWorks Commerce, we work with businesses to build eCommerce solutions that deliver results and create meaningful human experiences. This is driven by our Storyteching philosophy which is to move people and business using creative, data and technology.
Economic outlook downgraded for 2020 but 2021 looks bright
In June 2020, the International Monetary Fund (IMF) further downgraded its economic outlook for the Philippines, forecasting the GDP to shrink by 3.6% in 2020, though it still projects a 6.8% growth for 2021. To actualize the 2021 projection, the National Economic and Development Authority (NEDA) has identified eCommerce to aid the sustenance of economic activities in the short term and drive the growth of the country as it transitions to the new normal.
With the government providing fiscal and monetary aid to businesses and households, it has acknowledged the adverse impact it has had on tax collections in the past few months. Bureau of Internal Revenue (BIR) anticipates missing future collection targets as an effect of the economic downturn. As the pressure mounts on the government to generate more funds to continue its efforts in containing the virus, the focus has been shifted towards digital services. House Bill (HB) No. 6765, or the "Digital Economy Taxation Act" was filed in order to generate more tax revenues from the value created by the digital economy; a 12% value-added tax (VAT) on transactions made on eCommerce platforms, digital advertising services (search engines and social media platforms), subscription-based services (music and video streaming subscriptions) and services rendered electronically.
Fourfold growth in Philippines B2C eCommerce market by 2025
In the Philippines, the consumer (B2C) eCommerce market is currently valued at about PHP 150 billion (USD 3 billion), with an annual growth rate of 50% in the value of B2C eCommerce spend. In terms of total B2C retail spend, eCommerce spend currently accounts for 1% with the average annual online spend per B2C consumer being at PHP 4450 (USD 89). In 2019, the total number of people purchasing consumer goods online in the Philippines was at 48.70 million, thus making the average revenue per user account for 0.6% of the GDP per capita (2019 GDP per capita of the Philippines: PHP 180,492).
The eCommerce market size (consumer goods) is projected to grow up to fourfold from 2019 to 2025 to reach approximately PHP 600 billion (USD 12 billion), quite similar to the trajectory experienced in Thailand between 2015 and 2020. The number of eCommerce users is likely to reach 53 million by 2022, thereby making the annual revenue per user rise to PHP 4245 (USD 84.9) from PHP 1000 (USD 20) in 2019. This expansion of the industry will be reflective of the growing consumer trust in the ecosystem and increase in the number of MSMEs participating in the digital economy, further improving the demand and supply side economics with a wider variety of products being offered at affordable prices with reliable delivery options.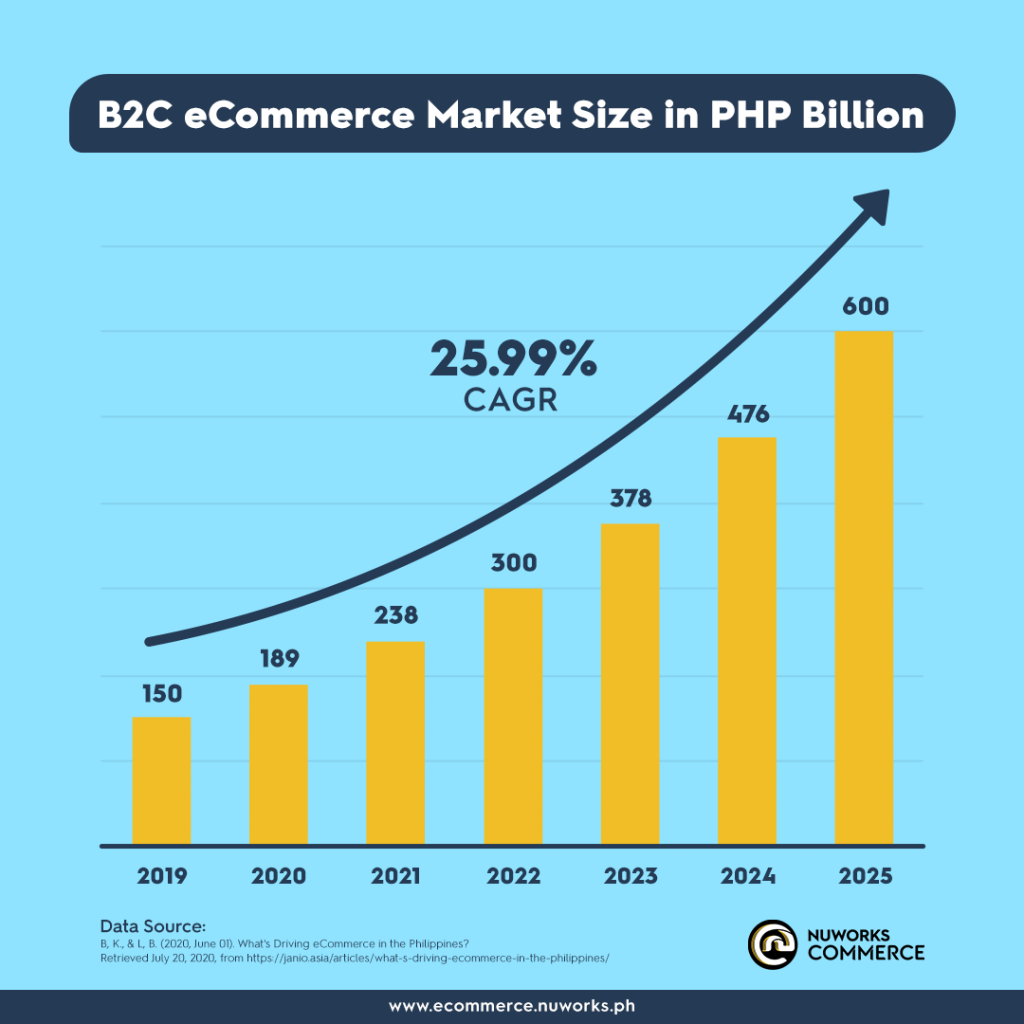 Unceremonious yet worth acknowledging that the pandemic led to the ecommerce ecosystem expanding; at a systemic level, eCommerce also got diversified both in the form of channels and players. Coincidently, Covid-19 and the containment policies and measures adopted to control the spread of the virus has also changed how we work and how we consume. To ascertain whether the changes in consumer attitudes, behaviors and beliefs will be permanent or not is debatable. However, eCommerce offers a middle ground to foster these shifts and allowing businesses to reach out and continue to serve consumers is a phenomenon being observed globally.
The interplay of Logistics, Payments and Technology for a robust eCommerce foundation
With the impact that the pandemic has had on retail operations, especially on physical stores, the role of brand experience now leans more towards the online channel and consumer experience is largely hinged on it too. In other words, owning the brand experience in the low touch economy can basically be equated to the ease with which customers use your website, what kind of options you provide for payments and lastly how effective is your order fulfillment process. Hence, for businesses interested in venturing into online commerce or scaling up existing capabilities, it is imperative that they direct their efforts on the following fronts – logistics, online payments and technology. Success in all three factors can help deliver a strong brand experience. Consumers' expectations for order fulfillment, ease of payment and website experience is changing constantly. Owning the end-to-end brand experience can be the source of great competitive advantage, but it also makes the business model asset heavy. On the other hand, organizations can go go-to-market quicker by creating an asset light model by pursuing strategic partnerships with service providers and/or partnering with an agency for the development of the eCommerce business. Apart from offering a great scope for customization, agency partnership also aids in the creation of an eCommerce operating model designed for gaining quick traction and can be scaled quicker than an asset heavy model. NuWorks Commerce enables companies to develop customers for life by equipping them with a human-centric strategy and practical tools.
Ensuring dependable logistics capabilitiesAccording to a policy brief conducted by the Department of Trade and Industry in partnership with the World Bank, logistics cost in the country accounted for 27.16% of the total sales of companies, making Philippines the most expensive country in ASEAN (Indonesia: 21.4%, Vietnam: 16.3% and Thailand: 11.11%).The eCommerce logistics industry has come a long way from the days when establishing big distribution centers was the trend. Owing to the Philippines being an archipelago and the worsening traffic situation, most marketplaces now resort to decentralizing operations to improve the speed of delivery. If done right, in-house logistics and warehousing can be turned into a business' core strength. However the cost of logistics automation is prohibitive for most businesses. Integrating an entry-level warehouse management system costs approximately PHP 2 million – PHP 4 million. Full automation of a warehouse will cost upwards of PHP 20,000 per pallet position (equivalent to a ground area of 1 x 1.2 meters).When advising clients on eCommerce supply chain management and logistics, we delve deep into the business objectives and understand business' stance on speed to market, product offering, targeted geography, anticipated levels of traction among other factors. We also look into the existing operating model and consumer expectations in terms of fulfillment experience and timelines. In our experience, there are three primary advantages of outsourcing your eCommerce fulfillment operations:

Expertise: Allows leveraging the capabilities of a partner with solid experience of executing and running smooth eCommerce operations, across a wide variety of sectors and geographies




Technology: Provides access to technologies such as robotics, automation and software solutions

Network: Benefits from a wide distribution network maintained by the service provider


Looking at the industry from the supply side, there has been an uptick in the number of logistics players in the Philippines, providing services across 2PL, 3PL and 4PL methods. Major players in the country like LBC, JRS Express, J&T Express are technology-driven end-to-end fulfillment and logistics solutions providers. These companies are funnelling investments towards scaling up their tech infrastructure to offer efficient and evidence-based operations for their clients and customers. For value-added services, the logistics companies are offering tailor-fit solutions for B2B customers including warehousing and inventory management in order to amp up their clients' productivity and efficiency.

Integrating online payments systems


The Bangko Sentral ng Pilipinas (BSP) continues to ramp up its financial inclusion efforts in its bid to double the number of Filipinos with formal bank accounts to 70% by 2023 (adult population banked in 2019: 35%). Only 38.9 million Filipinos make payments digitally and the total transaction value in digital payments is projected to reach approximately PHP 500 million (USD 10 million) in 2020. Digital payments infrastructure access is growing as traditional banks continue expanding their reach. With GCash and PayMaya pushing mobile wallets adoption, a host of fintechs have introduced new payment methods such as QR codes, and also drawn funding from giants like Ant Financial Services and Tencent Holdings. BSP has also rolled out the National Retail Payment System (NRPS), thus aiming for electronic account fund transfers that are more secure, convenient and affordable.

For any online payment transaction to happen (be it through credit card, debit card or e-wallets), there are three main players: the merchant, the customer and the technology. For any business to accept payments online, they need to onboard a merchant bank who will accept payments on their behalf and deposit it into the merchant account that they will provide. Upon purchasing an item using a debit card/credit card/e-wallet, the information transmittal happens via the payment gateway, where the information encryption happens prior to it being sent to the payment processor. Payment gateway is the software linking the website's shopping cart to the card processing network, and the payment processor facilitates the transaction through the processing network, transmittal of billing statements, working with the bank, etc. Having received the information, the payment processor requests the customer's issuing bank for the payment. Once the issuer approves, the payment processor informs the merchant about the successful transaction, and also informs the merchant bank to credit the business' account.

When it comes to integrating payment systems, our approach is holistic;

understanding the payment flow, security layers and standards certification, ease of integration, fees and service agreement requirements, customer support amongst other factors is taken into consideration while advising clients. Amongst the local payment gateway solution offerings, DragonPay, PayMongo, JuanPay, PesoPay are few players that have established themselves across sectors like retail, travel, daily deals, and restaurants.

Implementing secure and customizable technology


A crucial element in pushing for an accelerated eCommerce capability is the technology setup. Building the tech infrastructure from scratch involves defining the microservices architecture, codesigning the online-store concept with customers by performing usability testing and adopting an iterative approach. It also involves the development of tech capabilities that will link the online store front with the backend of the store with the warehouse management system, synchronizing inventory management, and order handling. Considering the decisive role of the website (of that of the store front), it needs to be dynamic in nature to the point that the tech stack developed should be able to accommodate all content-level changes without developers having to intervene. Although an arduous task, building your own

eCommerce tech capability provides ample room for customization both on the front-end as well as back-end

(including security, syncing with supply chain functions etc.) As a result, a dedicated team of developers, QA testers and user experience designers may need 2-3 months' time for developing the platform for simple business sites and about 6+ months for enterprise integrations.

Alternatively, there are multiple eCommerce solutions available that allow online businesses to manage their website, marketing, sales and operations. These eCommerce platforms can be broadly classified into three types:


Open-source

SaaS (Software as a Service)

Headless Commerce


With every shop having their own unique needs, choosing the right eCommerce platform becomes more important than ever as it will determine the platform's ability to solve the business' day-to-day challenges. Moreover, it is also advisable to evaluate the platform based on its ability to integrate social commerce, catalog size (number of products that can be sold) and quality of customer support services. Shopify, WooCommerce and BigCommerce are some of the most commonly adopted eCommerce platforms.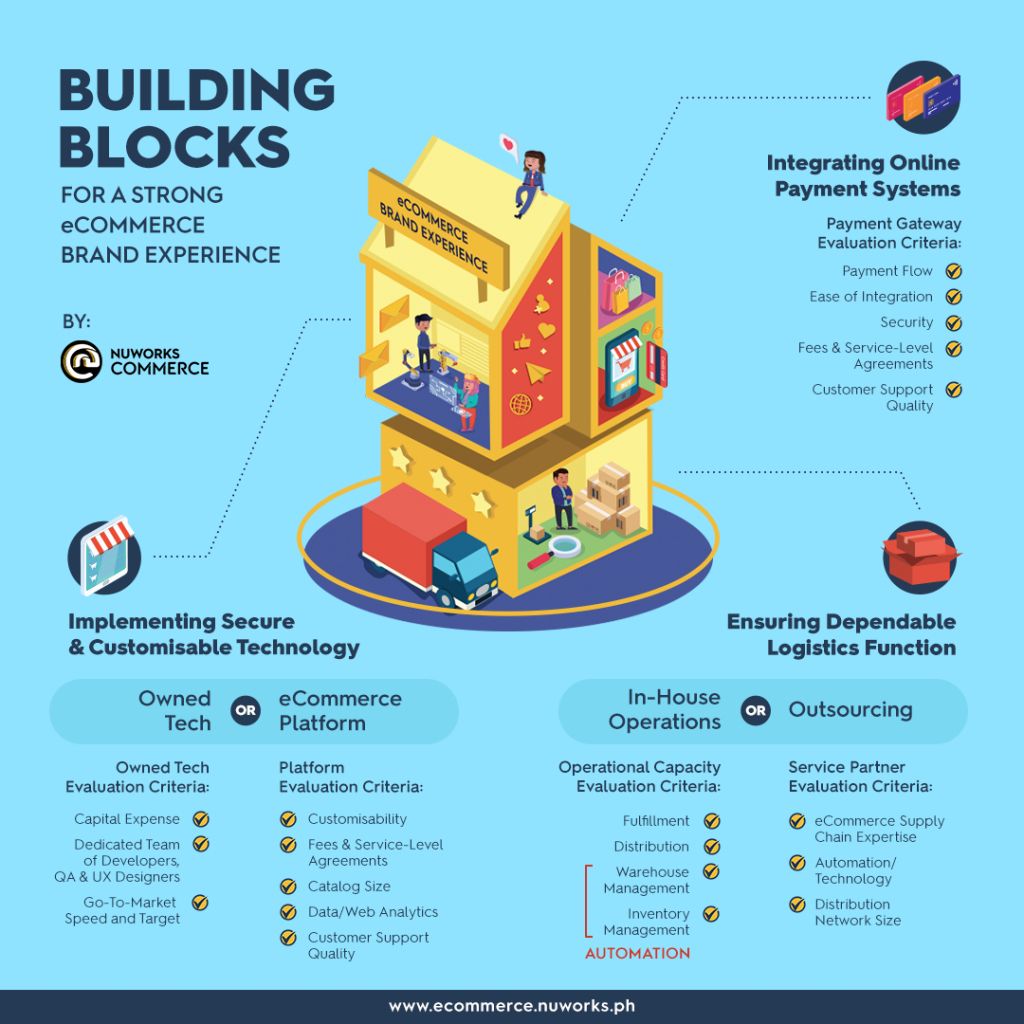 Let's build your eCommerce Business today!
Covid-19 led attitudinal shifts in consumer behavior are likely to stay for a long time, particularly the spike in the adoption of digital services. From an economic recovery standpoint, to augment the impact of the eCommerce industry in reviving consumer spend, the supply side will need more participants i.e. more businesses engaging in eCommerce, and make it more competitive. At NuWorks, we consider ourselves to be leaders of change, enabling businesses to adapt quickly and scale prudently their e-commerce operations, thus stabilizing and securing it as a source of revenue.
If you are interested to talk, reimagine, and build things together, you may contact Patricia Bautista Saez, NUWORKS Client Services Director, at pat.saez@nuworks.ph, or you may reach out to us here.

REFERENCES:
IMF World Economic Outlook : https://www.imf.org/en/Publications/WEO/Issues/2020/06/24/WEOUpdateJune2020
National Economic and Development Authority: eCommerce seen to sustain PH economy and drive growth : https://www.neda.gov.ph/e-commerce-seen-to-sustain-ph-economy-and-drive-growth/ 
Hootsuite We are Social report : https://datareportal.com/reports/digital-2020-philippines 
The World Bank: GDP per capita (current US$) – Philippines : https://data.worldbank.org/indicator/NY.GDP.PCAP.CD?locations=PH 
Janio: What's driving eCommerce in the Philippines : https://janio.asia/articles/what-s-driving-ecommerce-in-the-philippines/ 
ASEAN UP: Insights and trends of eCommerce in the Philippines : https://aseanup.com/insights-trends-e-commerce-philippines/ 
Statista: Digital Payments, Philippines : https://www.statista.com/outlook/296/123/digital-payments/philippines 
Better than Cash Alliance: The State of Digital Payments in the Philippines : https://responsiblefinanceforum.org/wp-content/uploads/2020/02/The_State_of_Digital_Payments_in_the_Philippines-Feb20.pdf