As the new form of eCommerce continues to unravel, the need for human centricity in design is becoming more and more apparent. The overall eCommerce experience of a brand is now as important as its products and their respective prices. As much as one would like to focus on efficiency and usability, there is an even greater need to consider the intangibles: customer happiness, trust and even peace of mind while using your platform. These intangibles can directly impact how each customer behaves in your brand's eCommerce touchpoints. Will they feel comfortable to actually purchase? Are they in the disposition to enjoy a livestream shopping experience? When they do make a purchase, are they inspired to return to your platform and give a good review? These are the questions that usability alone cannot address — raising a very tall order for exceptional experience design. 
We used to look at Experience Design as a practice of creating flows and wireframes where usability is the main goal. ICYMI, usability has now become hygiene. Yes, it is still important but it is just the beginning. Experience Design is about transformation and it requires sound methods and skills. Any agency can claim that they know Design Thinking but the framework becomes demoted to a cliche if you don't really understand how to use it. 
Design Thinking stages are very simple and straightforward: Empathize, Define, Ideate, Prototype and Test. For NUWORKS, the key is putting intentional effort in the Empathize stage as a testament to their Storyteching philosophy. The innovations agency breaks it down into smaller stages in order to dig deeper and to find the balance between the business goals and customers needs. Truly understanding customer motivations, frustrations and aspirations while finding ways to incorporate them into business goals prepares the groundwork for a meaningful and exceptional human experience.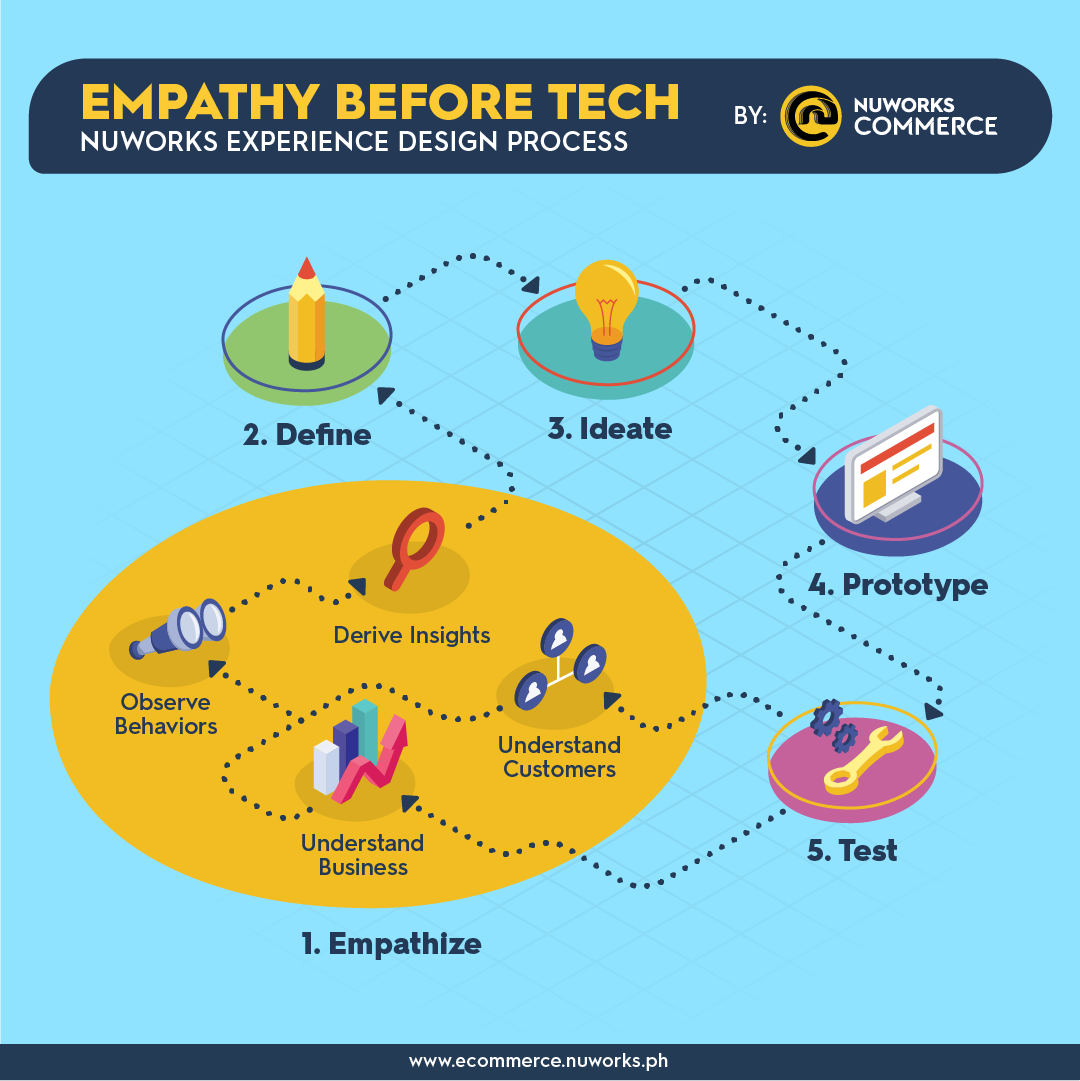 DISSECTING THE NUWORKS EXPERIENCE DESIGN PROCESS
Understand
NUWORKS reconciles both the human story and the brand story during the Empathize stage. Understanding business goals is primarily driven by a systematic and methodical discovery process where a multidisciplinary team from the agency facilitates either in-depth conversations, journey mapping workshops or ideation sessions to surface the drivers and blockers that are present in the current business value chain. This gives further background on why business goals are as such.

Observe
This is where the agency tries to read consumer behaviors. What you usually hear is that decisions should be based on or in support of a persona or a documented representation of the target audience of the platform. While correct, an equally important task is to validate these personas through actual conversations with real people. NUWORKS believes that going beyond desk research is key to taking your persona from a set of assumptions to an "almost real" state where the level of authenticity can be felt both by the design team and the brand. These personas are intended to reconcile all your qualitative and quantitative data about your customer.
Derive Insights
Only after you've completed the Understand and Observe stages, can you properly Derive insights. This requires a level of maturity and a certain amount of collaboration beyond the design team. Multidisciplinary agencies like NUWORKS tend to be very strong in this by having both a mature Insights and Intelligence team and a seasoned Experience Design team in-house.
Completing these milestones within Empathy stage primes you for a simpler and sharper problem statement and consequently a pointed ideation exercise that minimizes assumptions and risks for your business. This is then followed by detailed prototypes and then proper usability testing. Proper testing means using the right methods and frameworks with the correct respondents while interacting with a prototype that addresses the right problem. This completes the NUWORKS Design process. It is more tedious in a sense that a more conscious effort is exerted in the beginning but in totality, this approach saves teams a lot of time during ideation and consequently a lot of money before the partners decide to build. 
CALL FOR COLLABORATION IN REALIZING DESIGNS  
Good designs are only of value if they are realized. This is why NUWORKS, as an end-to-end solutions provider, makes rigorous effort in delivery as they do in the understanding and insighting stages of the design exercise. A design team's job does not end when the design assets are complete. They need to make sure that what they designed is built and delivered the right way. It is not a handoff, it is a collaboration. The ability to work with any development team critical but it's even better if you have a fully integrated and agile Design and Development Team which is how NUWORKS is set up. Their seamless handshake enables delivery with speed and quality while ensuring that the healthy push and pull between the two units achieve business objectives. With collaboration in the agency's DNA and structure, they are able to consider all stages of the customer journey while bringing to the table the concepts of cost, quality and time with all the interdependencies early on.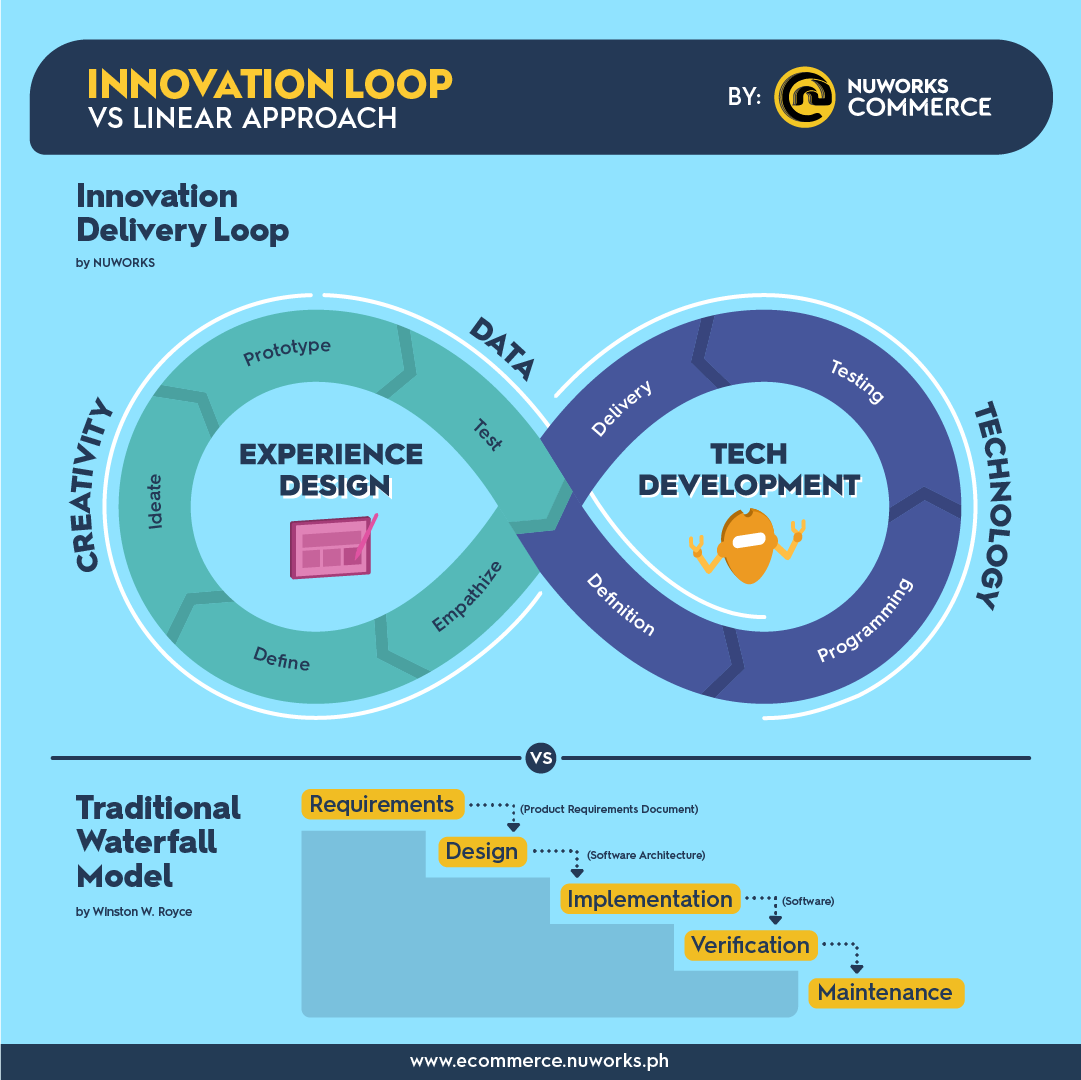 Introducing the NUWORKS delivery process in contrast with the traditional model
What is traditionally a linear delivery process is a continuous loop for NUWORKS. The intent is to go through the loop as you continue to evolve and improve your brand experience offering. This entails accepting that experience design is not a one-off exercise, nor is it a checklist. It is a continuous transformation process and way of thinking where design can help solve problems with less risk and assumption. In this process, insights and designs become actionable because development is part of the equation. As you continue to evolve the experience for the customer through enhancements, new partnerships and innovations, both objectives and options are constantly re-evaluated on how it delivers on business success.
THE NUWORKS INNOVATION DELIVERY LOOP IN ACTION
One example is Swift's Meat E-Tindahan: a virtual storefront housed in a chatbot for Facebook Messenger. In the first few weeks of ECQ, there was a very clear need for food and grocery deliveries including frozen meats. PMCI Swift approached NUWORKS Commerce with a clear sales target and a simple online form deliverable for quick launch. As their innovations partner, NUWORKS quickly embarked on an eCommerce Discovery session to generate a clear view of growth opportunities and strategic imperatives that will fulfill their business KPIs and found the alternative yet strategic option of a chatbot instead of an online form. The deeper level of empathy allowed NUWORKS to see the opportunity at hand- that almost every Filipino, regardless of shopper behavior, will know how to use FB messenger with 89% of the online population as active users. It was the perfect platform for minimal learning and maximum accessibility.
The next question was how do you build it fast. This is where the concept of the MVP or minimum viable product was introduced by NUWORKS Commerce to Swift. What is the smallest or simplest possible build that still delivers value? Most solution providers compromise the last part, delivering value. For NUWORKS, it is not an MVP if it does not deliver value to the customers and to the business. Through Platform Playbook utilization, Conversation Design and Information Architecture, the output was an end-to-end chatbot design, enhanced with the integration to a very simple and easy-to-launch database. This ensures frictionless ordering within an organically adapted platform in their pockets. The bot was launched in a little over two weeks. In less than a month after its roll-out, the Swift Meat E-tindahan broke records for parent company, Pacific Meat Company Inc. reaching 142% of their total conversions target. It also generated an impressive average check-out at P1000 with products averaging P142. This reflected the ease of ordering multiple products in one transaction through the platform. Watch the Swift bot experience here: 
INNOVATION DOES NOT STOP: BUILDING FOR INCREMENTAL SUCCESS
With the right data gathering systems and expert reviews in place, NUWORKS was able to translate insights into feature upgrades for the Swift chatbot. They are now in the process of developing builds for Phase 2. Data-driven insights are continuously generated to inform and inspire improvements for both the business and the customers. The loop continues.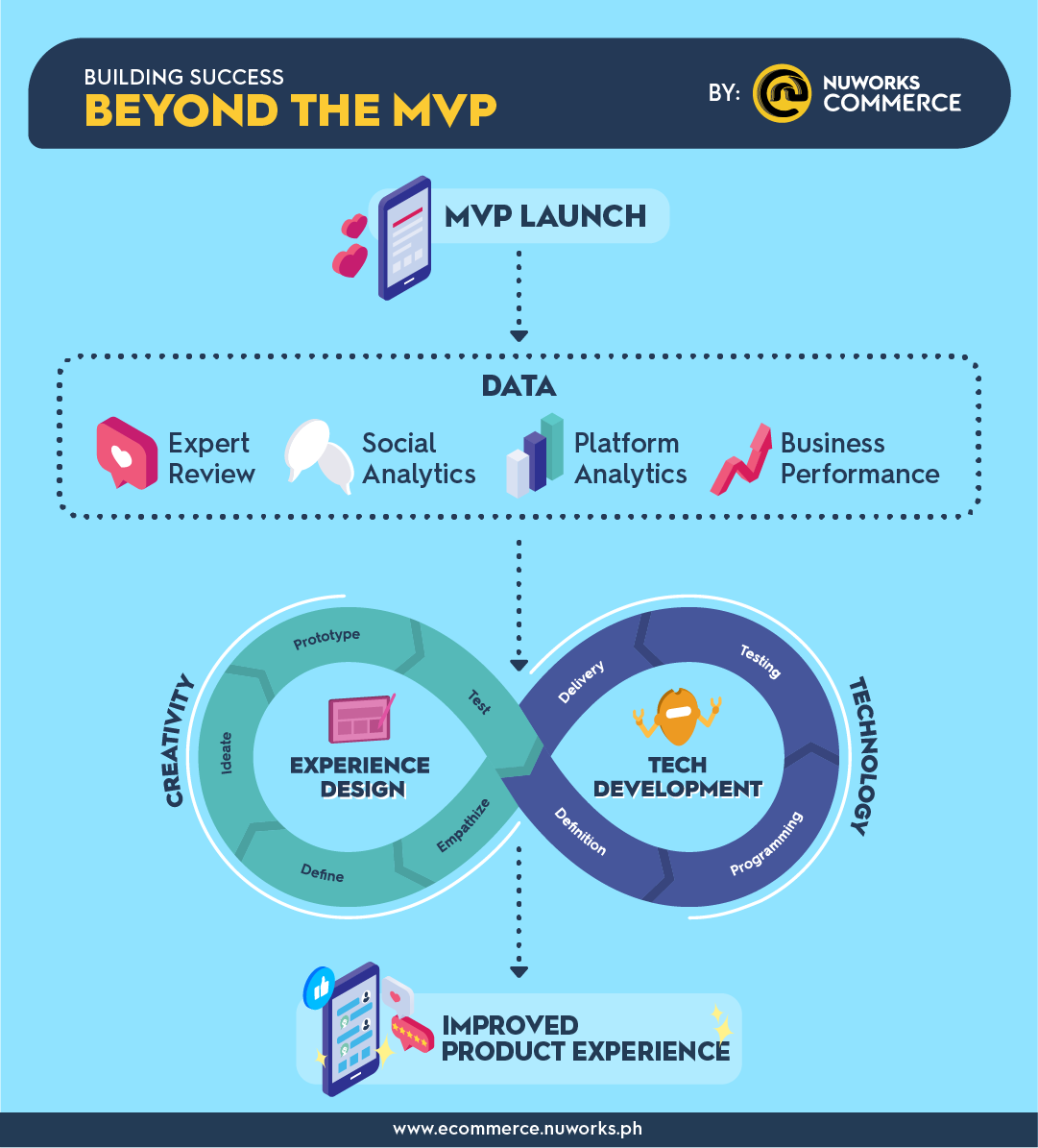 Even if you've built the best customer experience possible, chances are you've only designed for "now".  The brand experience constantly needs to transform and adapt to tomorrow's human needs, frustrations, motivations and aspirations. This means you should not be looking for a supplier but instead a partner to guide you and grow with you every step of the way. NUWORKS Commerce is designed to take you through that transformation journey – composed of highly skilled and collaborative teams of problem solvers and creators.

If you are interested to start a discovery session and build things together, you may contact Patricia Bautista Saez, NUWORKS Client Services Director, at pat.saez@NUWORKS.ph.