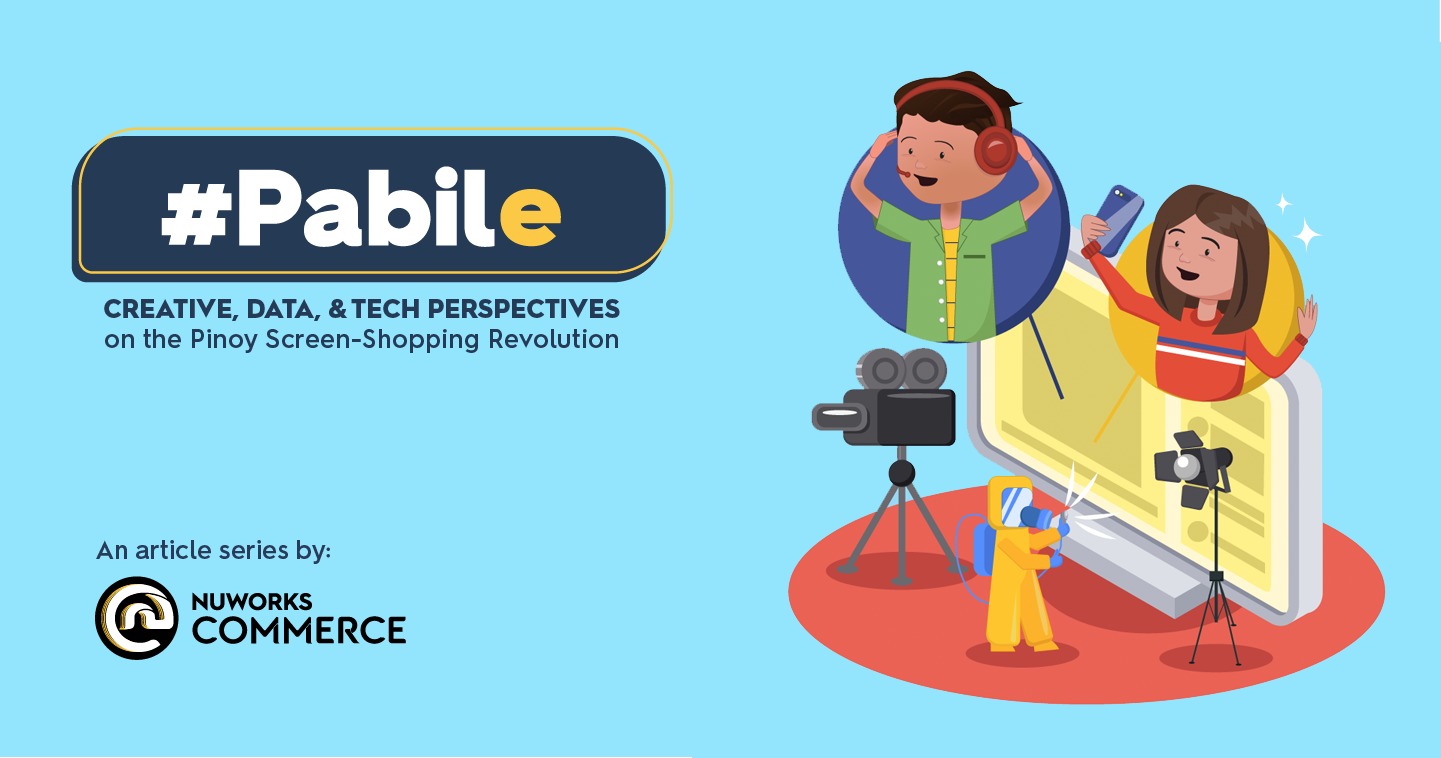 "Five years of digital transformation in a single year" as stated in a Facebook and Bain & Company SEA Report. The rapid rise of digital consumers and their spending patterns highlighted both the increased opportunity for brands as well as the challenge for agencies and production houses to pivot their services. During the enhanced community quarantine, the audio-visual industry was stricken with halted production and activity imposed by the IATF but agency partners like NUWORKS knew that it was not an option for its clients to stop promoting their products and services online completely. 
While instilling stringent protocols to ensure the safety of its workforce, NUWORKS found the clear opportunity to tap into the see-now-buy-now market – enter Live Commerce productions and "shoppertainment". 
SECURING A SUCCESSFUL STREAM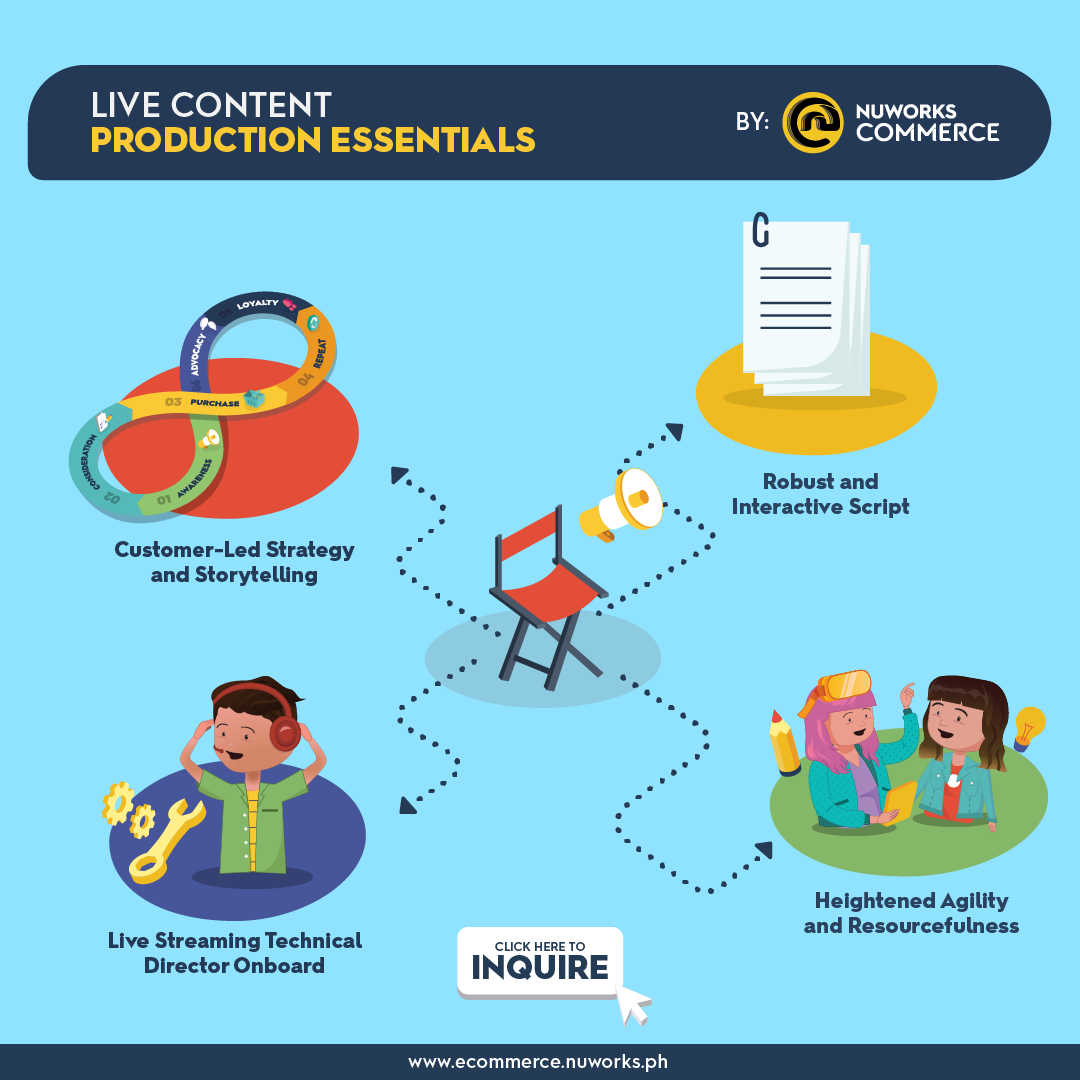 With a public health crisis paralyzing the economy as key cities go under lockdown, Filipinos turn to digital applications not only to socialize but also to "attend" events of religious and industry groups. Brands have also embraced the in-app interactive engagement features of connecting and selling directly to consumers to diversify their revenue stream and answer the increased demand for digital experiences. With its own in-house content production team working closely with Creatives and Strategy, NUWORKS had the essential people and processes to face the rapid uptake of live streaming services. 
A clear customer persona and journey from the NUWORKS Insights and Intelligence team informs not only the channel selection but also inspires the storyline of mobile broadcasts. With viewing behavior varying across markets, deep and local insights are needed to seamlessly blend shopping with entertainment.   

Secondly, a robust and engaging script from their in-house creatives team is necessary to build, sustain and monetize the online audience. From welcoming them to the live stream to asking them to answer in the chat, to telling them to add to cart, the script has the ability to drive the energy and audience retention as it captures the flow of your content. It is incumbent for creative teams and content creators to deliver bold new ideas through the script while ensuring that the overall objective of the client is still achieved. Only this time, it's extended to at least an hour where cues of interactivity have to be evident throughout the show.

The third point to consider and probably one of the main shifts live streaming productions has brought is the need to onboard a Technical Director. Video production has evolved where talents are independent content creators leaving the collaboration in the hands of the creative team and tech director. He also ensures that the script is executed seamlessly while providing backend support for technicalities required of a live stream execution.

As anyone in production may have experienced, projects are rarely hiccup-free, especially new executions. The NUWORKS team has stretched and strengthened its agility and resourcefulness skills as they face dependencies on the host talent, stable Internet connections and challenges of ensuring a safe and sanitized working environment.  Unlike traditional productions, pausing and doing a re-take is not an option which means contingency plans have to be in place with a team that can produce solutions on the spot, on air – all ingrained in the Creatives & Content service offering of NUWORKS COMMERCE. 
WAY FORWARD FOR BRANDS

NUWORKS has been pushing the boundaries of productions even pre-Covid — inviting brand partners to think outside the box and make big shifts themselves. With over 70M Filipinos having access to the 'Go Live' feature on Facebook and growing operations of live streaming app start-up, KUMU, the use cases for live streams has widened. Looking back,  live streams would be confined among gamers to showcase gameplay or podcasts. In the new normal, the application of live streaming can be seen across the consumer journey objectives.  
In today's reality, the consideration stage is now mired with even more questions without the freedom to inspect a product or service closely in person. In "Key Considerations when developing an e-commerce strategy", NUWORKS tackled the Low Touch Economy Pinoy Mindsets featuring the cautious checkers "seguristas" prioritizing sanitation, safety and security. By showcasing in real-time, consumers are  reassured of the authenticity and effectiveness of use — further driving them down the funnel from awareness to conversion. Let's look at some examples:
GERBER
–
DRIVING EDUCATION ON FIRST FOOD FEEDING
To drive education & awareness  about proper feeding for 6 months old and above, NUWORKS and GERBER Philippines mounted an interactive round table discussion with new mom Solenn Bolzico, experienced mom Xandra Rocha and an expert pediatrician. On the Facebook Live execution, Solenn shared her concerns and experiences as a first time mom with questions on how to start feeding her little one. An exclusive home video was also shared on the livestream showing  Solenn's little one truly enjoying eating GERBER at home.The captured audience  did not only learn about the appropriate solid food for babies,  they were also made aware of GERBER's availability in leading supermarkets & e-commerce sites at key moments of the broadcast.
SUNSILK: DRIVING PROMO PARTICIPATION ON E-COMMERCE EXCLUSIVE KITS
To demonstrate the promise of expert perfect straight hair, SUNSILK Philippines, together with NUWORKS, launched a Facebook Live event where Ylona Garcia and Maris Racal went through the #BlowDryLevels Challenge. As viewers watched them get ready in under 30 minutes, Ylona and Maris constantly prompted them to use the campaign hashtag #BlowDryLevels in the comments section to join the giveaway promo as well as to activate the Messenger chatbot that seamlessly invited them to shop for the product featured on the show.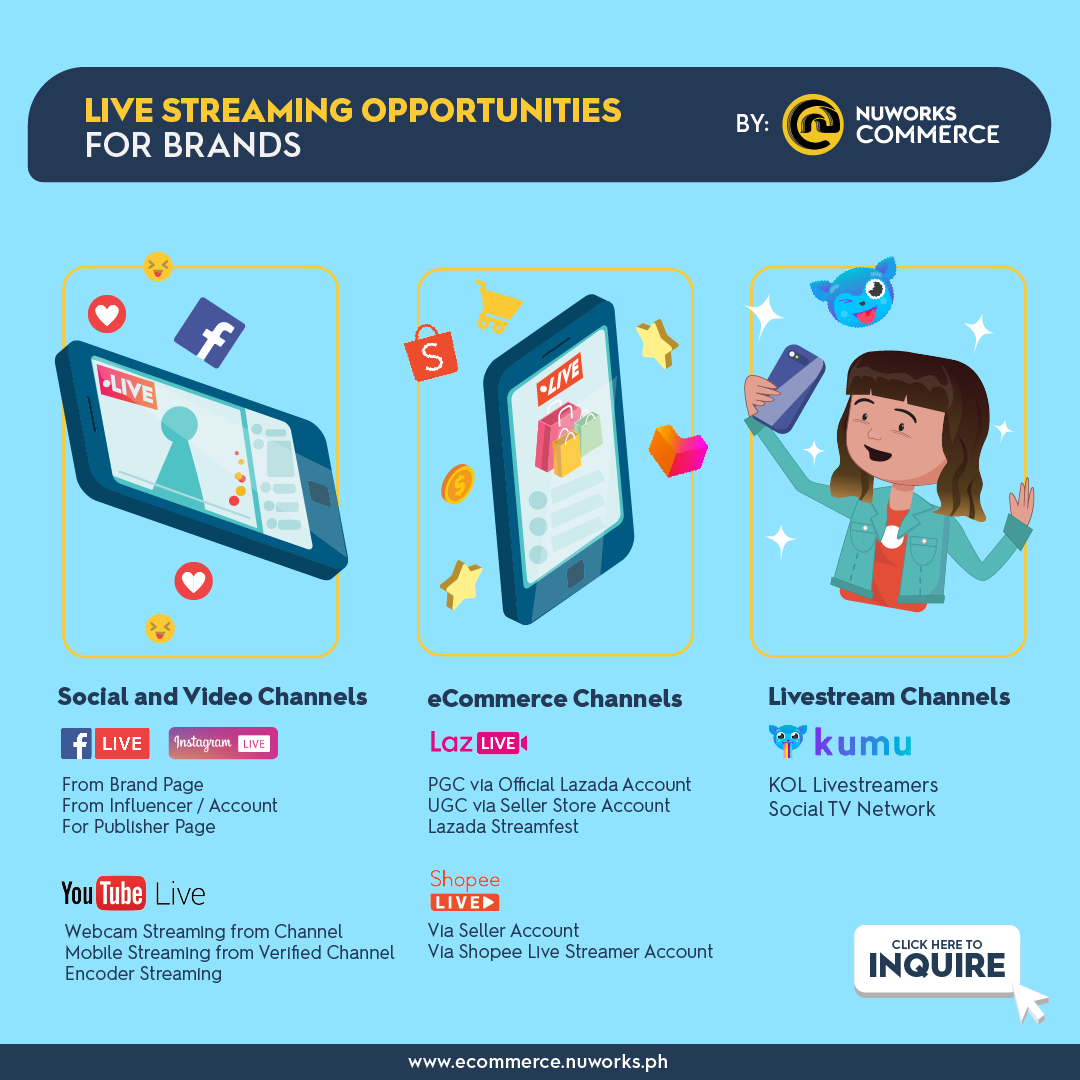 DRIVING CONVERSION IN-APP
In the Philippines, growth of ecommerce is led by the marketplace giants Lazada and Shopee. Their high user volumes have given them enough clout to host their own live stream shows natively. Hot on the trail of success is an emerging platform with newly launched eCommerce capabilities, KUMU. Aside from social and video channels, brands can opt to go live and close the loop through these "shoppertainment" platforms in partnership with NUWORKS:
LAZ LIVE
PGC –

Pre-recorded and streamed via  Lazada's official account. 

UGC –

Live or pre-recorded and streamed on Seller Store

Streamfest

  – Lazada-initiated whole day livestream on Laz Live tab
SHOPEE LIVE
Via Seller –

Shopee allows it's sellers to host their own Shopee Live. This is a way for the seller to showcase how their products are authentic. 

Via Shopee Live Streamer Account –

Brands can tap the official Shopee streamers who can host their own content
KUMU 
With more than 3M downloads, KUMU's users are mostly from the BC Market, and are among Gen Z & Millennial Filipinos.
Via KOL Livestreamers –

Official KUMU influencers can host branded streams with exclusive ecommerce features 

Social TV Network –

Kumu-initiated interactive game show with spotlight on brand
NUWORKS Commerce offers marketing solutions that leverage on the efficiency of live stream productions across these high-reach channels.  Brands can explore different executions that address awareness, consideration and now even conversion with the agency's access to data, creativity and technology – all in-house.  

THE NEW MEDIA NORMAL
The livestream uptake by Filipinos brings to the surface the extreme demand for seamless experiences, the search for value-for-data. Pinoys turn to platforms that give the most opportunity for them to be entertained, informed and also to make money. Tutok to Win, a noon time TV show simulcasted in social platforms featuring Willie Revillame, gives away 10,000 – 50,000 pesos worth of online credits in partnership with Shopee. Lazada has also extended LazLive to users and consumers to enable a new source of income while working from home. While there is a clear opportunity for brands to engage the audience through live streaming, NUWORKS can help brands navigate through the intricacies of the ecosystem and extract the most effective use of the platform for your specific category. 
For inquiries on how to forge forward with this new media normal, you may contact Patricia Bautista Saez, NUWORKS Client Services Director at pat.saez@nuworks.ph.  Alternatively, you could also reach out via the Contact Us page of NUWORKS.

Resources:
Tech Crunch (April 14, 2020) "Filipino live streaming app Kumu raises $5 million Series A led by Openspace Ventures" by Catherine Shu from https://techcrunch.com/2020/04/14/filipino-live-streaming-app-kumu-raises-5-million-series-a-led-by-openspace-ventures/
Manila Bulletin (May 13, 2020) "Shopee identifies 4 of the biggest e-commerce trends in 2020″ from https://mb.com.ph/2020/05/13/shopee-identifies-4-of-the-biggest-e-commerce-trends-in-2020/
Lazada on LinkedIn  (September 15, 2020) from https://www.linkedin.com/posts/lazada_lazmall-shoppertainment-lazlive-activity-6712214952557596672-uSST