MANILA, PHILIPPINES — Amidst the lockdown, eCommerce paved the way for sustained revenue generation and risk diversification of businesses. It continues to be among the few feasible and viable crisis strategies as both the global and the local PH market show a recovery trajectory that, so far, seems slower than we had all hoped for. Certainly as businesses re-open, eCommerce will be central to the redesign of business models and customer experiences that the new low-touch economy will call for.
NUWORKS, the Philippines' biggest independent digital agency, scales up its eCommerce business solutions offering and launches NUWORKS COMMERCE to consolidate its eCommerce capabilities — business and digital marketing strategy, platform development and experience design, creative content and performance media, order management and store operations, customer support and community management, analytics and CRM — under one brand.
The NUWORKS COMMERCE business solutions offering includes end-to-end strategy, tech enablement, and operations management of eCommerce businesses. It is a proprietary approach to eCommerce that is 1) inclusive and collaborative — meeting businesses where they are in their digital transformation and eCommerce journey, 2) tailored to the local eCommerce landscape, 3) built with the Pinoy shopper at the center, and the brand story inspiring infrastructure and experience design, 4) strategic, seamless, and business-building through the combined power of creativity, data, and tech.
Delivering diverse eCommerce capability scope in the last three years, NUWORKS is currently the eCommerce partner of Coca-cola Beverages Philippines, Inc., San Miguel Corporation, Pacific Meats Company Inc.'s Swift Foods, and Unicef Philippines, among others.
"In the so-called post-crisis 'bright outlook sectors' such as health and well-being, home care, education, and connectivity, businesses will find growth or recovery levers in eCommerce-enabled improvements in operational efficiency, mental and physical availability, service delivery, and differentiation. On the other hand, for businesses in the hardest hit sectors like air travel and transportation, eCommerce will enable much-needed operational streamlining and focus towards remaining opportunity segments, occasions, or need states that could keep players afloat at least until external market conditions are kinder," says Pat Saez, NUWORKS Client Services Director, adding, " Where eCommerce habits are likely to stay, we can expect a blurring line between living and buying. How a brand will be experienced by Pinoy e-shoppers, and whether or not consistency, brand connection, and conversion will be achieved, will rely on the integration of marketing, sales, and supply chain management. These functions now need to work closer than they ever did in the past, in ways that warrant a rethink of organizational structure, roles, and ways of working."
Featuring a new and improved user experience and website design, SMB Delivers is an online pocket fridge that allows customers to order their favorite SMB beverages and delivers ice cold beer to their doorstep. Users can easily customize their go-to choices so they can come back to order more of their favorites.
SOLUTIONS TAILORED TO THE LOCAL ECOMMERCE LANDSCAPE
According to Ethel Sanchez, NUWORKS Insights and Intelligence Director, "The most common Pinoy eCommerce constraints would be the complexity of urban freight distribution vis-a-vis the community geography, the cultural reluctance to fully embrace cashless payments, and the cost of reliable internet connection that continues to be discouraging if not prohibitive for most Pinoys.
She adds, "Culture-wise, we see strong attitudinal drivers of eCommerce adoption that are actually deeply rooted in traditional Pinoy shopping mindsets. For one, shopping has always been a very social experience for Pinoys. Relationships (i.e. 'suki' ) and personal dialogue (i.e. 'patambay muna ah,' 'bigyan na kita ng tawad pang buena mano!') are at the heart of transaction experiences and hence the comfort level that Social Commerce brings (i.e. " HM sis?") to the online shopping experience is not at all surprising. Traditionally, shopping has always been a "race to best value" for most Pinoys (i.e. "punta ako ng maaga para mauna sa mga presko ," "sige na, huling tawad") and now it's no wonder that limited-time big sale events are a significant driver of eCommerce trial. There is also the traditional #Pabile #Pa-tingin-amoy-tikim Pinoy shopping habit that now translates to a barrier for key categories where sensory cues drive discovery, value perception, and preference when shopping."
"Moreover, new cultural factors have been brought about by the pandemic. Traditionally domestic skills such as cooking or house repairs are now being monetized and traded online; #Pabile / online shopping has become a form of entertainment or crisis stress antidote; and we see Pinoy social connections thriving in spite of social distancing through online purchase and delivery of care packages. To deliver extraordinary experiences, businesses need a profound understanding of where Pinoy shoppers are and where the business needs to be. They also have to understand platform usage insights and translate these into design and tech solutions that deliver real value, solve problems, and create a genuine positive impact on how people feel and live," she adds.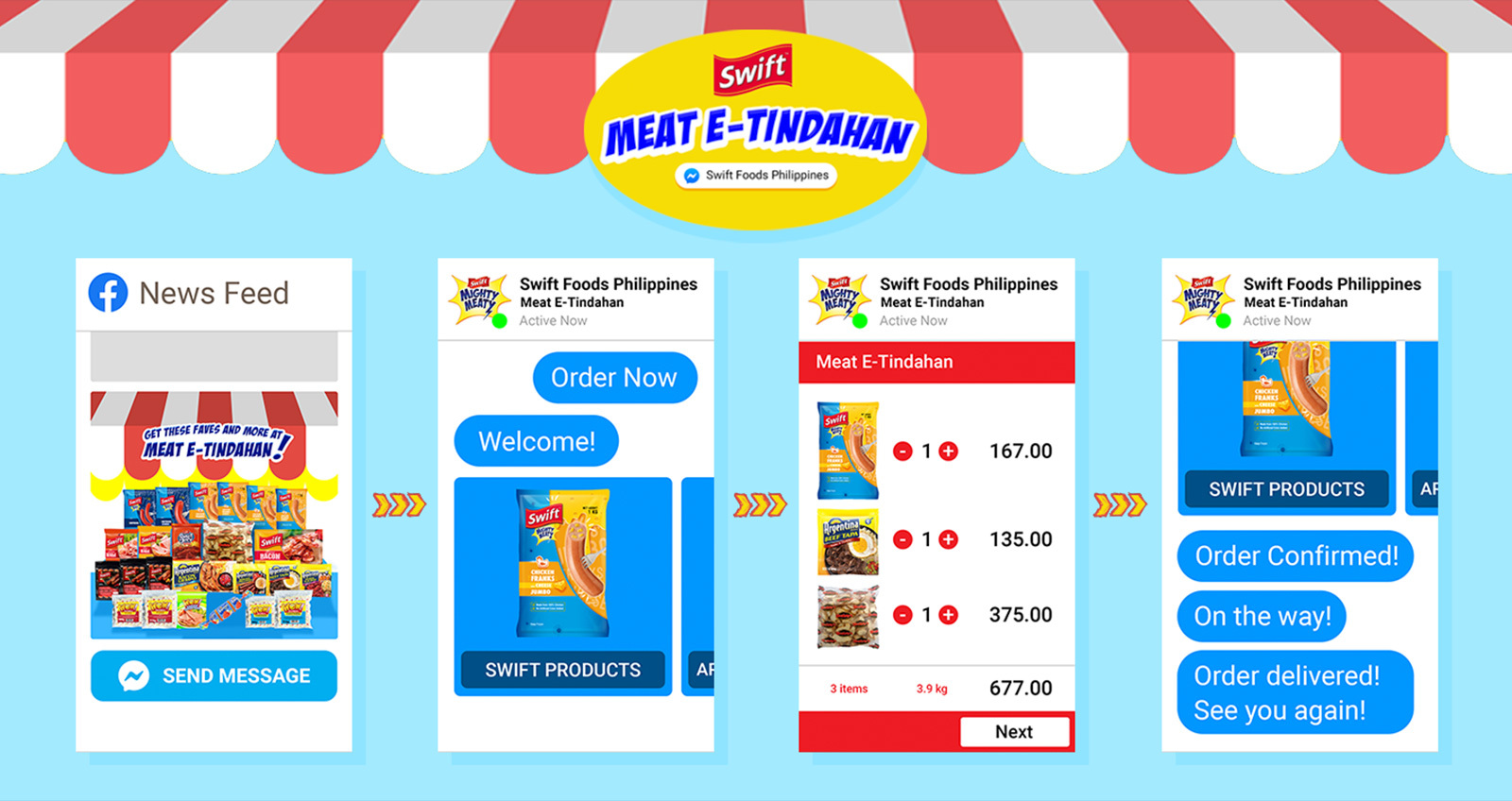 Featuring Swift's Meat E-Tindahan: a virtual storefront housed in a chatbot for Facebook Messenger. The bot allows shoppers to place their orders just by messaging Swift's page, similar to how they would chat with their trusted sellers, or "suking tindahan", in the market, or "palengke".
THE NUWORKS FORMULA: CREATIVITY + DATA + TECHNOLOGY
At NUWORKS, solutions and systems are designed for resilience and perpetual reconfiguration to effectively serve changing needs and standards and to move with speed and strength through the permanent instability that defines the business and digital landscape of today. And what enables it all is the agency's unique culture of innovation — a safe and fun collaborative space for brave ideas and continuous learning, and an agile team of strategists, creatives, business managers, designers, data analysts, and developers all under one roof.
"The tight collaboration and T-shaped thinking that come naturally when working in a multidisciplinary team under one roof are what we would call "the secret sauce" of seamless end-to-end brand experiences that culminate in an online purchase. The business strategy, consumer-shopper understanding, and brand idea are never lost in the process. The integration of data and analytics through every step and channel in the brand ecosystem allows for the sharpest focus in all activities, investments, and effectiveness measurement. There is no gap between learning and application; between the collection of human insight and optimization — from content to tech platforms — to yield more of what works and less of what doesn't," Mike Ng, NUWORKS Tech Director says.
Pat Saez, NUWORKS Client Services Director shares: "Our startup spirit characterized by innovation thinking, passionate learning and commitment to agility and effectiveness, lives on, no matter how big the agency gets. These mindsets also happen to be what most business experts have identified as the key success factors of the eCommerce enterprise of the future.
"The NUWORKS philosophy as an innovations agency has always been about stretching what's possible with STORYTECHING, the combined power of creativity, data, and technology, to turn opportunities into ideas, ideas into prototypes, and prototypes into meaningful human experiences that connect businesses and people. The hemihelix that stands for its STORYTECHING DNA sits at the core of the NUWORKS COMMERCE logo as it remains to be the key building block of all of NUWORKS' business solutions offerings, including the NUWORKS COMMERCE brand.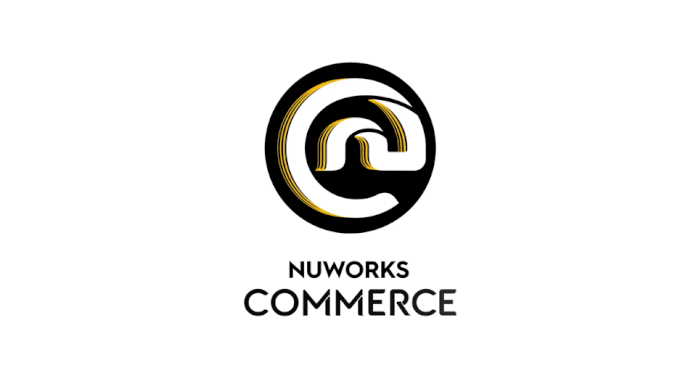 Introducing NUWORKS COMMERCE by NUWORKS
At the heart of the logo is an "n" transitioning dynamically into an "@" and an "e," a refreshed expression of STORYTECHING and the NUWORKS innovation philosophy powering its eCommerce capability. Lines push the "e" figure upward, adding depth, as a reference to NUWORKS' strategic, agile, and seamless end-to-end eCommerce service delivery. An image of a solid stamp is created using the same bold NUWORKS colors as an expression of its core corporate values of excellence and integrity in its delivery of digital innovations in business.
"We are thrilled to scale up this business solutions offering and extend our eCommerce innovation expertise beyond our current roster of clients to accommodate the growing demand for bespoke and agile eCommerce solutions that are strategic, sustainable, and profitable," says NUWORKS Client Services Director Pat Saez.
"eCommerce is the gold rush of our time — a key strategic imperative for every business in the last decade and even more so through the recent pandemic and economic crisis where eCommerce is set to play a very crucial role as catalyst of inclusive survival and economic recovery. eCommerce is also where creativity, data, and technology can truly come together to take the business-people connection to a whole new level of value and meaning. It is a rather complex job, but the kind that calls for ambidextrous innovation thinking that is second nature to us. We've been having such a fun time inventing things in the past 11 years since we founded NUWORKS in an old residential apartment — from branded games to emotion-sensing ice cream dispensers to multi-media players embedded in pizza boxes, and now to digital purchase experiences and webstores of varying sizes and formats, my team is all set and excited to continue setting the pace of digital marketing innovation in the Philippines with NUWORKS COMMERCE," says Jeff Saez, Chairman and President, NUWORKS.
For inquiries, contact Patricia Bautista Saez, NUWORKS Client Services Director, at pat.saez@nuworks.ph.